Those of you who caught our season preview post and podcast (and if you didn't...well, what are you waiting for?) may have noticed that I have a bit of a disagreement with all three of my co-bloggers about a certain ginger Geordie midfielder. To put it bluntly, Jack Colback should not be an automatic starter in central midfield for a top-half club in the Premier League. Here's why.

This is Colback's passing chart from the Southampton match, courtesy of Squawka.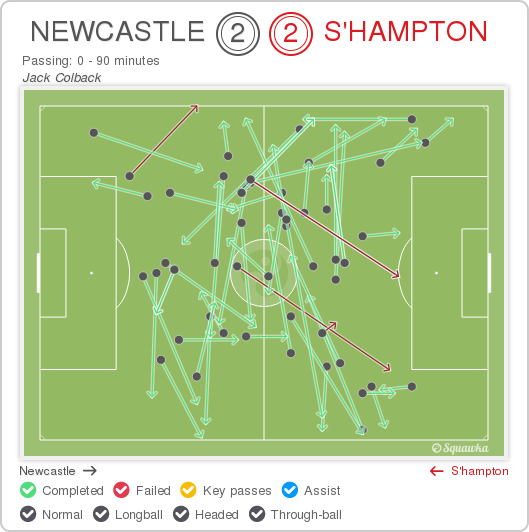 Notice anything? There are hardly any forward passes or passes into the final third of the field. Granted, he completed 92% of the passes he did attempt, but that's because they were extremely safe. Given the choice of a performance like this or some of Cheick Tioté's worst outings, when he tried to channel then-teammate Yohan Cabaye and sprayed passes wildly all over the pitch, I guess I'd take Colback. But outside of his corners, he essentially offers zero in an attacking sense.
Late in Sunday's match, the commentators pointed out that Steve McClaren was yelling from the sideline to tell Colback to switch play and involve Moussa Sissoko and Daryl Janmaat, who had been left unmarked while Southampton packed the center of the park. That moment summarizes Colback as a player to me. He's not bad, per se. But he isn't capable of involving his more talented teammates in a way that allows them to take advantage of space or mismatches. Instead, he's content to slow the play down with a safe sideways or backward pass that gives the defense a chance to settle back into position. 
That's why comments from my co-bloggers about Colback being "underrated," or producing "the definition of a captain's performance" set my teeth on edge a bit. If anything, he's now become overrated, as commentators clearly love him even though he's a fairly limited player.
Colback did have two extremely good defensive plays in the last 10 minutes against Southampton and deserves credit for making them. But by and large, his performance was what you'd expect: that of an average midfielder who runs a ton (sometimes too much, as he chases the ball and can run himself out of position), can easily slot into a number of roles, but is ultimately replaceable and not a good enough player to build a team around. Especially since his inclusion in the lineup effectively comes at the expense of someone like Ayoze Pérez.
When Colback first signed for Newcastle last summer, I compared him to Danny Guthrie and said that I thought he would be effective in the same role Guthrie filled in the fifth-place season. In that campaign, Guthrie played 16 league matches and three in the cups, ably stepping in for Cabaye and Tioté in spot duty. That should be how McClaren uses Colback from here on out: starting him in select matches where his tenacity could prove useful, but not relying on him excessively.